Overline:

Berlin Science Week

Headline:

From Millinery to Natural Building to Podcasts
This year's Berlin Science Week (1-10 November 2023) will once again showcase the sciences across a host of events, promoting discussion of recent research and its findings. The ten-day festival is expected to attract over 20,000 visitors and will feature presentations from around 500 speakers, supported by some 150 organisations. RIFS researchers and fellows will also participate in this inspiring dialogue between science and society, art and research. An overview.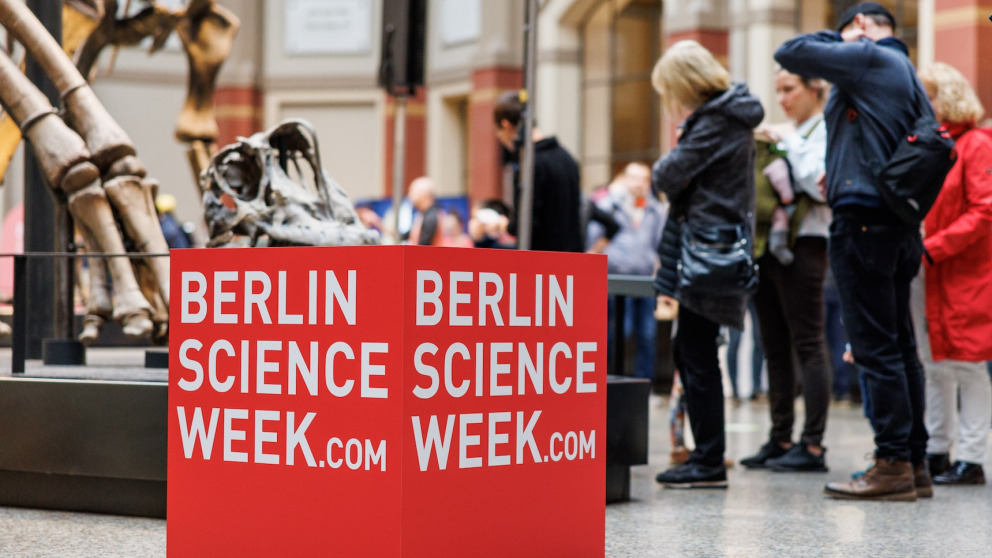 To be of service - Exhibition
1.11-10.11 Tiny Galleries Open daily 3:00 p.m. - 7:00 p.m.
This year's Berlin Science Week will tread new ground with a special exhibition that explores the fruitful interaction between artistic practice and scientific rigor. Featuring diverse formats, ranging from classical art installations and artist talks to science slams, comedy and live performances, and workshops, Dare to Know: Creative Science, Precise Art will highlight the potential of scientific methods, approaches, and research findings. Offering opportunities for emotional as well as aesthetic engagement, the artworks on display will foster an innovative debate.
"To be of Service" (zu Diensten sein in German) presents tiny worlds of speculative millinery. What does this have to do with science? The climate crisis and biodiversity crisis are two deeply entwined catastrophes. RIFS Fellow Susanne Schmitt's exhibition takes late nineteenth-century hat-making ("millinery") as a crucial starting point for a blend of environmental activism and public thinking about the unfolding extinction crisis. The works shown here feature historic hats adorned with the feathers of now-extinct birds, analysed by AI-powered species recognition apps and developed further in consultation with professional hat-makers and botanists. During the Science Week, Susanne Schmitt regularly gives insights into her research workshop.
Find out more here.
Building (with) Nature - Film Screening & Discussion
3.11 at 4:30 p.m. CAMPUS - Invalidenstraße 43, 10115 Berlin
How do scientists model the environment and how do their models affect environmental processes? These questions and more are explored in the short film Building with Nature about the design principles underpinning Zandmotor, an artificial peninsula near The Hague in the Netherlands. Novel construction methods have been applied at Zandmotor to create and sustain a coastal landscape. The dynamic modeling approach developed by the scientists behind Zandmotor makes it possible to approximate the behaviour of large quantities of sand over a period of 20 years or more. Produced by scientist, filmmaker and RIFS Fellow Michaela Büsse between 2020 and 2022, the film explores the recursive relationship between virtual environment and actual landscape. Büsse juxtaposes on-site footage of Zandmotor with images from the lab and artistic renderings of scientific data collected over six years.
Find out more here.
Narrating for New Narratives - Discussion
8.11.2023 at 2:00 p.m. DIW - Mohrenstraße 58, 10117 Berlin
Four science podcasters – Professor Claudia Kemfert (Kemfert's Climate Podcast, in german), Professor Alex Demirović (tl;dr - The Theory Podcast, in german), RIFE researchers Cecilia Oliveira (Carbon Critique) and Victoria Luh (Listen, Lausitz, in german) - embark on a wide-ranging discussion on the opportunities and challenges of podcasting for transformations: Can podcasts facilitate dialogue between scholars, activists, arts professionals, and other practitioners? What challenges do science podcasters face?
In their respective shows, the four podcasters explore developments in climate policy and unpick the empirical, normative, and epistemic issues at stake. Together they will consider how podcasts can help to foster conversations about difficult but germane issues such as power relations, social transformation, democracy, neoliberalism, postcolonialism, climate policy, environmental crises, sustainability, science, and the arts. Juxtaposing different viewpoints, this discussion aims to stimulate critical thinking and broaden listeners' understanding.
Find out more here.
Watch the discussion on Youtube: