Overline:

Democratic governance

Headline:

Podcast Explores Carbon's Role in Politics
In a podcast series, RIFS researchers discuss the role of carbon in climate and sustainability politics. They talk to academics, activists and artists whose work has influenced their own research on the transformations of our carbon-dependent society. In the fourth episode, Usha Natarajan (Columbia University/Dalhousie University) and Julia Dehm (La Trobe Law School) discuss their book "Locating Nature: Making and Unmaking International Law".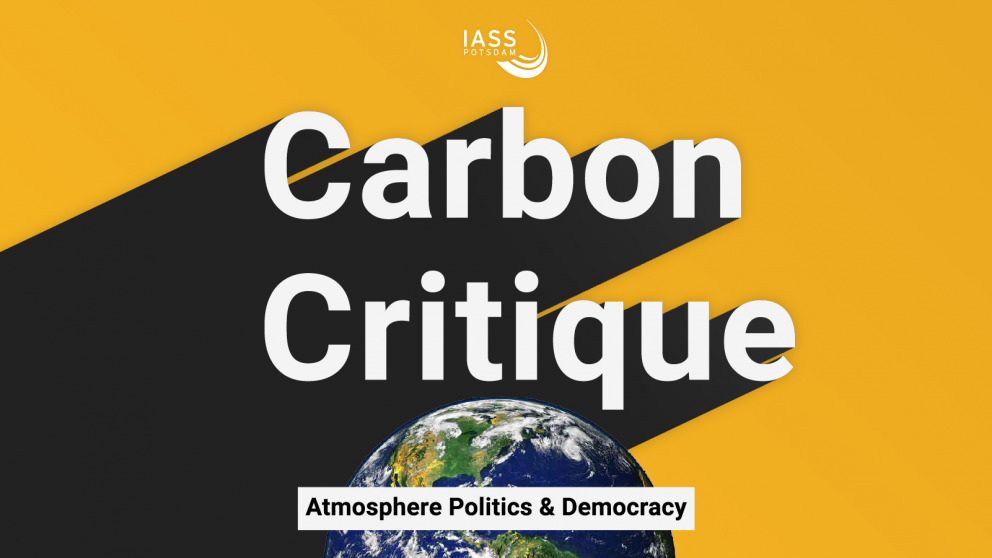 The podcast is produced by the RIFS research group Democratic Governance for Ecopolitical Transformations (Ecopol) and forms part of the group's larger mission to develop new cartographies and approaches to thinking about climate politics and ecopolitical transformations. The researchers want to explore the problems associated with the governance of carbon, and whether and how decarbonization practice and rhetoric can go beyond "carbon rationality" – a system of thinking and governing that is based on a political economy of carbon emissions. They will discuss the political meanings and implications of carbon and the ways it has shaped our society and planet.
A platform for lively exchange
Their transdisciplinary research, which includes representatives from politics, arts, and civil society and a multiplicity of disciplines, has impelled the researchers to experiment with different aesthetics and modes of communication. Through their podcast project, they aim to build a platform for science communication and knowledge production. The podcast serves as a digital arena, designed to open up conversations between hosts, guests, and listeners.
In the fourth and last episode of the first season of the Carbon Critique podcast series, RIFS researchers Bernardo Jurema and M. Cecilia Oliveira have two guests. Usha Natarajan is Edward W. Said Fellow at Columbia University and International Schulich Visiting Scholar at Dalhousie University. She employs postcolonial and Third World Approaches to International Law (TWAIL) in her interdisciplinary research to offer a holistic comprehension of the correlation among development, environment, migration, and conflict. Our second guest is Professor Julia Dehm. She is a Senior Lecturer at the La Trobe Law School. Through her scholarly work, she tackles pressing matters concerning environmental law in climate change on both international and domestic spheres, as well as issues surrounding natural resource management, human rights, economic disparities, and social justice.
The RIFS researchers talked to them about the new book that they have edited for Cambridge University Press, "Locating Nature: Making and Unmaking International Law."
Available on multiple platforms
You can also listen to the first episode with Cara New Daggett (Virginia Tech), the second episode with Timothy Mittchell (Columbia University), and the third episode with Maurizio Lazzarato (CNRS/University Paris I). A written version of the interviews will also be available in both English and German as the episodes are released. You can find the episodes on the RIFS website and streaming services such as Spotify, iTunes and SoundCloud.
Transcripts of episode 4:
Transcript of the interview with Usha Natarajan & Julia Dehm (English)
Transkript des Interviews mit Usha Natarajan & Julia Dehm (Deutsch)
Tags: