Headline:

Survey to Measure Public Reactions to Pop-Up Cycle Lanes
Pop-up cycle lanes are currently springing up across the city of Berlin. The temporary routes are to be converted into safe cycle lanes by degrees. But what do Berliners think of them? A research team has launched an online survey to find out.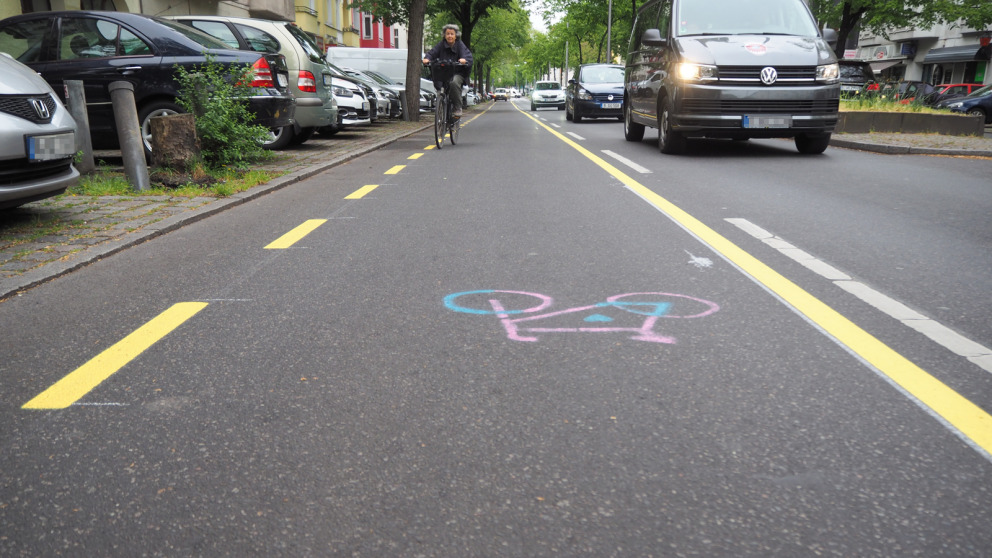 With city streets emptier than usual during the corona crisis, Berlin has seized the opportunity to create more space for cyclists. For as long as the virus cannot be controlled, the city wants to promote active mobility with the required physical distance. The new cycle lanes have been set up in the outer lanes of busy streets previously designated for traffic or parking.
The initiative has been welcomed by bike-friendly organisations like the Changing Cities association and criticised by the German Automobile Association (ADAC), but little is known so far about what Berlin road users think of the pop-up cycle lanes. Now, a research team from the joint project EXPERI – with researchers from the IASS Potsdam, the Technische Universität Berlin and the Institute of Transport Research – wants to investigate this.
An online survey on the pros and cons of temporary cycle lanes started today. It will also gather data on how people's mobility behaviour and attitudes to different modes of transport have changed during the covid-19 pandemic. As Project Leader Sophia Becker (IASS/TU Berlin) explains, "We want to find out what positive and negative reactions the new bicycle infrastructure has prompted among Berliners." Preliminary findings are expected in June and will be published on the project website.
Links: