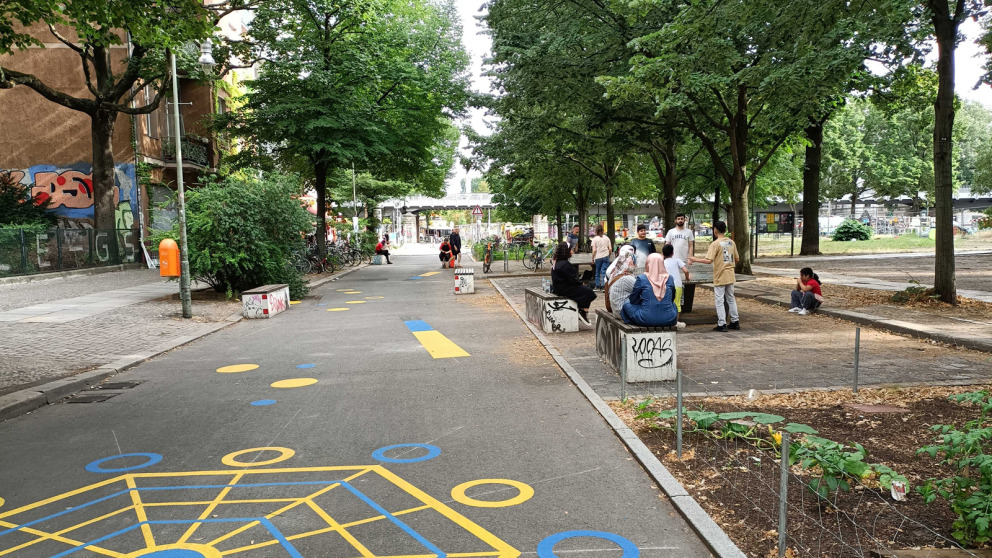 Headline: Kiezblocks as a Modular, Cross-Sectoral Strategy for Climate Change Adaptation
Duration:

to
The impacts of climate change confront German cities with a range of challenges. Urban transformation concepts such as superblocks and Kiezblocks (residential areas in which through traffic is prohibited) aim to strengthen urban resilience, promote active mobility and social cohesion, support local businesses, and facilitate the greening and unsealing of surfaces in urban areas. But what can be done to make these transformation processes sustainable and inclusive?
Preparing neighbourhoods and urban spaces for the impacts of climate change
Cities are already affected by the consequences of climate change in different ways. These impacts include harms to human health caused by heat waves as well as disruption to road networks due to extreme rainfall. Climate change impacts are exacerbated in larger cities like Berlin by the extensive sealing of urban surface areas and lack of green spaces. As many of the negative consequences of climate change occur concurrently, adaptation measures that deliver positive effects across multiple sectors in parallel are particularly promising. The superblock concept (Kiezblock in German) has met with considerable interest in urban development debates as a cross-sectoral solution for climate change adaptation. The development of superblocks entails substantial structural interventions in public space to promote active mobility (cycling and walking) and increase users' ambient and social experiences, and the conversion/unsealing of areas used by motorized transport as well as the creation of additional green spaces.
Superblocks as a participatory adaptation strategy
The following three gaps identified in similar urban planning concepts in Barcelona (superblocks) and London (low traffic neighbourhoods) must be addressed in order to ensure that superblocks serve as an effective adaptation strategy:
1.) Similar concepts were developed almost exclusively as measures to enhance climate action and road safety. Their potential as strategic measures for climate change adaptation has received less attention. 2.) The structural modification of road infrastructure as a means to calm traffic frequently took centre-stage. Opportunities to comprehensively redevelop urban spaces - including the repurposing of traffic areas and the creation of additional green spaces with their numerous positive effects on health, social cohesion, and the economy - should be emphasized. 3.) Citizens, business owners, and other stakeholders had few (or only inadequate) opportunities to contribute to the implementation of these concepts. In some cases this led to considerable opposition and jeopardized their success.
Overall objective: The project "Kiezblocks as a Modular, Cross-Sectoral Strategy for Climate Change Adaptation: Participatory Development and Prototypical Implementation in Berlin-Mitte" fills these gaps by pursuing a participatory approach to the development and creation of superblocks (Kiezblocks) as a modular, cross-sectoral strategy for climate change adaptation in several planning areas in the borough of Berlin-Mitte.