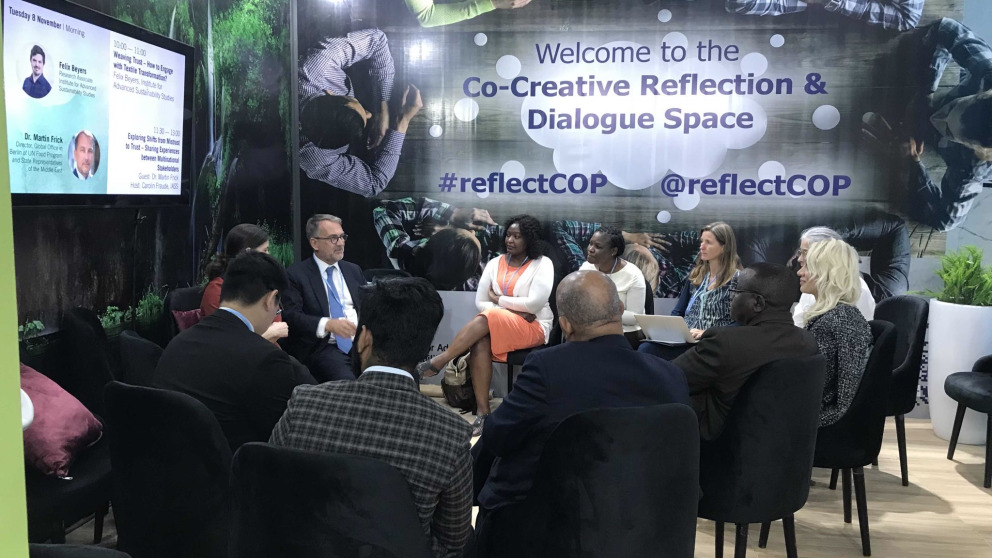 Headline: Co-Creative Reflection and Dialogue Space (CCRDS)
Duration:

to
Find the activities of the CCRDS project at COP28 in Dubai on our event page
The CCRDS is a transdisciplinary project exploring the potential of offering a safe space for dialogue and reflection through authentic encounters in an international policy environment such as the UNFCCC. It experiments with reflexive and interactive methods to touch upon people's perceptions, relational values, and beliefs as a resource for transformation.
The research project grew out of the experiences and observations of several RIFS researchers' participation in the UN Climate Conferences (COPs) as the core international political body to address the pressing challenge of climate change. RIFS researchers and partners had the impression - and also collected scientific evidence - that the communication culture was not perceived as conducive to the ambitious goals of the conference. Rather the researchers observed a prevailing feeling of overload by traditional one-directional side-event formats in the non-negotiation space. The lacking experience of connection in these formats seemed to fuel a general atmosphere of inauthenticity and mistrust among actors.
These observations lead to the question:
What does it take to establish a more appreciative communication culture?
With this in mind and against the backdrop of the highly contested political situation, RIFS researchers and partners have embarked on a joint learning journey for over six years now. While experimenting with different participatory formats and design principles, they explored what formats and practices would better allow the diverse perspectives, knowledge, and potentials of actors at the COPs to co-create new insights particularly for implementing sustainability transformation efforts. They found that a crucial factor for generative encounters lies in the quality of social relations. When actors can meet in a safe (enough) space to engage beyond their political agendas or national and cultural identities, they can engage with each other in trustful atmospheres as human beings facing a global crisis together.
In order to harness the potential of the people at the COPs, the CCRDS project focusses on research about the dynamics and impacts of spaces and processes for academics, country delegates, and NGO representatives, as well as other diverse COP participants, in which they can jointly reflect and share experiences and impressions. They can also reflect together on how to improve space for authentic encounters at COPs (both formal and informal) in order to increase the effectiveness and agency of the collective and of each individual with regard to climate change.
Given the insights and potentials of the CCRDS, how would a scaling of its key ideas contribute to addressing climate change more effectively?
RIFS and its partner organizations are working together to offer their expertise to support transformative dialogue, reflection and building meaningful relationships. After hosting their own pavilion and side event concept in the blue zone at cOP25-27, the project now seeks to make its insights accessible to others and establish transformative partnerships with other COP participants and organizers, who would like to experiment jointly with approaches to deeper encounters. Potentially, scaling the lessons from the CCRDS could even provide space to test and advance new formats for the COP process after the Paris Work Programme.
Beyond sharing their practical experiences, the RIFS researchers will continue to accompany the interventions and experiments with research methods such as participant observation, surveys, and interviews to also make their findings accessible to the academic community or relevant policymakers.
Publications
Wamsler, C., Schäpke, N., Fraude, C., Stasiak, D., Bruhn, T., Lawrence, M., ... & Mundaca, L. (2020). Enabling new mindsets and transformative skills for negotiating and activating climate action: Lessons from UNFCCC conferences of the parties. Environmental science & policy, 112, 227-235. https://doi.org/10.1016/j.envsci.2020.06.005
Fraude, C., Bruhn, T., Stasiak, D., Wamsler, C., Mar, K., Schäpke, N., ... & Lawrence, M. (2021). Creating space for reflection and dialogue: Examples of new modes of communication for empowering climate action. GAIA-Ecological Perspectives for Science and Society, 30(3), 174-180. https://doi.org/10.14512/gaia.30.3.9
Mar, K. A., Fraude, C., Bruhn, T., Schäpke, N., Stasiak, D., Schroeder, H., ... & Lawrence, M. G. (2021). Fostering reflection, dialogue and collaboration among actors at the UN climate change conferences. RIFS Policy Brief https://doi.org/10.48481/iass.2021.028
Mar, K. A., Schäpke, N., Fraude, C., Bruhn, T., Wamsler, C., Stasiak, D., ... & Lawrence, M. G. (2023). Learning and community building in support of collective action: Toward a new climate of communication at the COP. Wiley Interdisciplinary Reviews: Climate Change, e832. https://doi.org/10.1002/wcc.832
Blogs
Felix, B., Fraude, C., Bruhn, T., Schroeder, H., Mar, K., Lawrence, M.: Fear and trust in UN climate policy at UNFCCC COP27, 13.10.2022
Fraude, C., Beyers, F., Bruhn, T., Schroeder, H., Lawrence, M.: Confronting fears - Strengthening trust, 07.10.2022, Deutsche Version
Information and contact details
CCRDS@iass-potsdam.de Media: @ReflectCOP #ReflectCOP