Headline:

Platform for Sustainability in Brandenburg Mobilizes Society to Strengthen Resilience
Local and regional actors play a key role in sustainable development in Brandenburg. Bringing them together to support joint action is a core focus of the Platform for Sustainability in Brandenburg. At the platform's annual conference on 8 December, members drew a positive balance and acknowledged the platform's role in developing potential solutions and mobilizing society. The platform called on government to step up the pace of change for sustainability.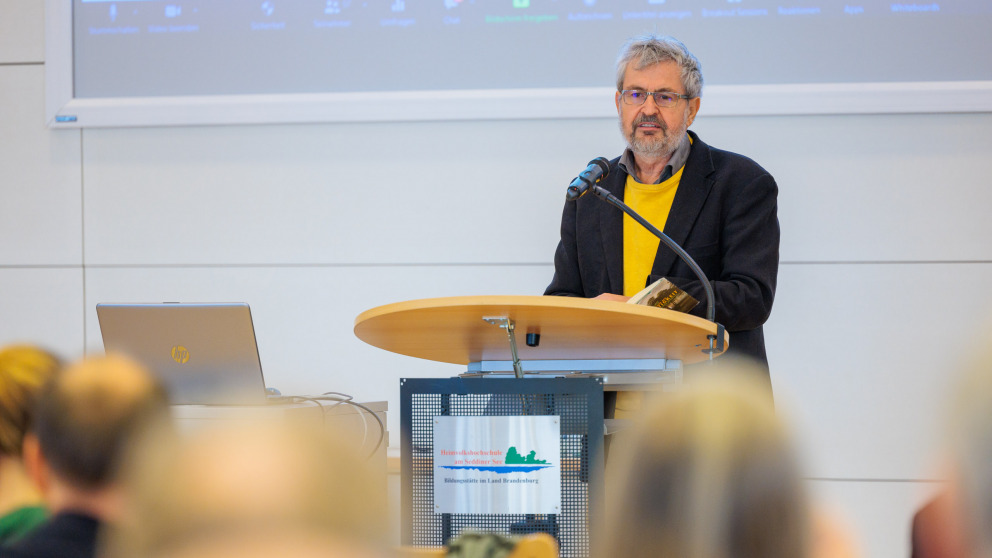 The Platform for Sustainability in Brandenburg was founded in January 2019 and is funded by the Ministry of Agriculture, Environment and Climate Protection (MLUK) of the State of Brandenburg. It has 179 members at present, including representatives from local authorities, the business community, science, welfare associations and civil society. The platform's secretariat is hosted by the Institute for Advanced Sustainability Studies (IASS) in Potsdam and led by IASS Scientific Director Ortwin Renn.
Following a host of crises in 2022, including the Ukraine War, the cost of living crisis and yet another summer of severe drought, discussions focussed on how Brandenburg could respond and prepare for future challenges in a changing world.
Axel Vogel, Minister of Agriculture, Environment and Climate Protection of the State of Brandenburg, said: "The Platform for Sustainability has brought together initiatives that are finding new ways to address the challenges facing Brandenburg. Workshops organised by the platform on the implications of the climate crisis for water management or digitalisation in municipalities, for example, have both identified challenges and offered valuable recommendations on how we can make Brandenburg more resilient."
Photo gallery: Annual conference of the Platform for Sustainability in Brandenburg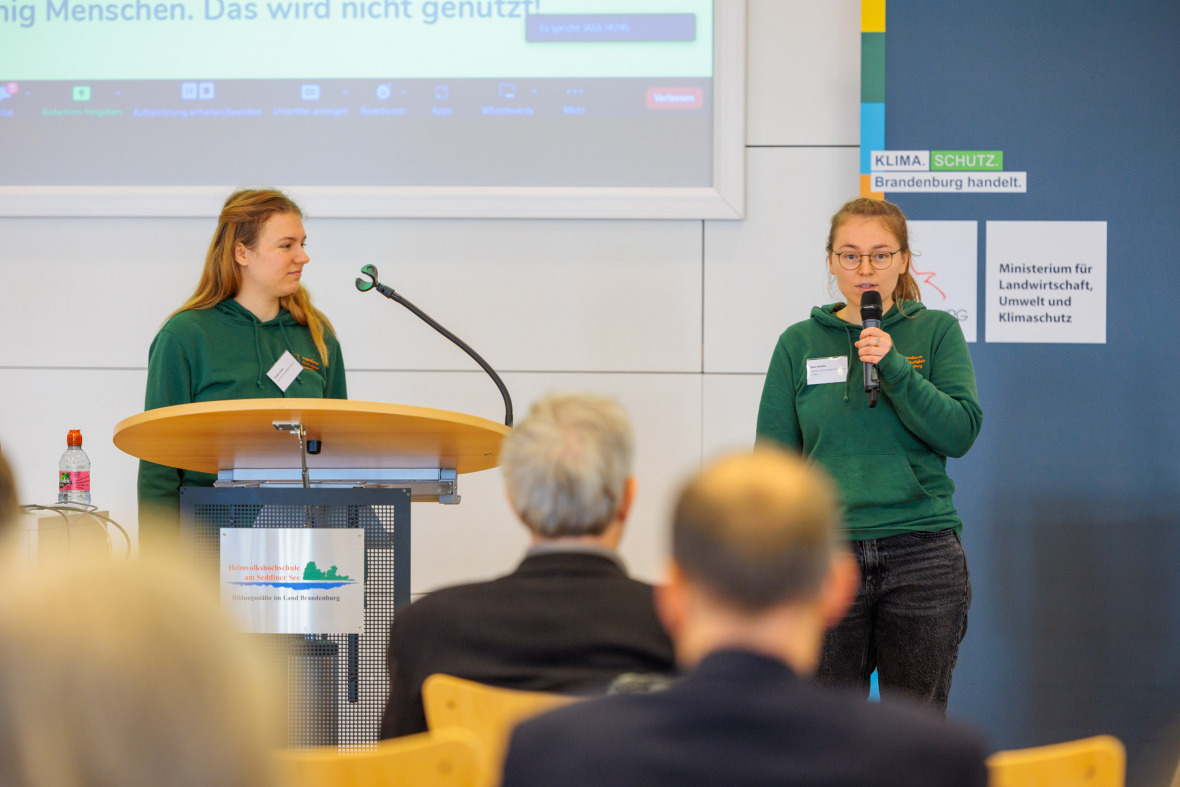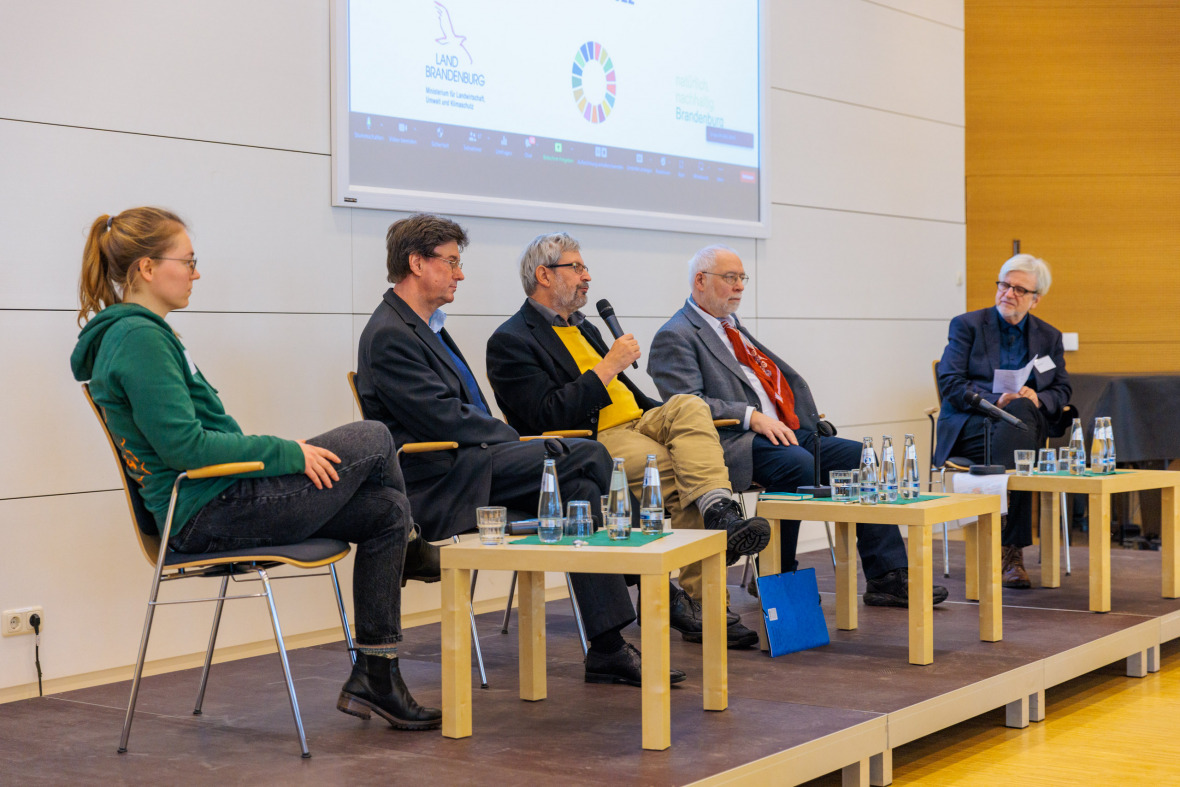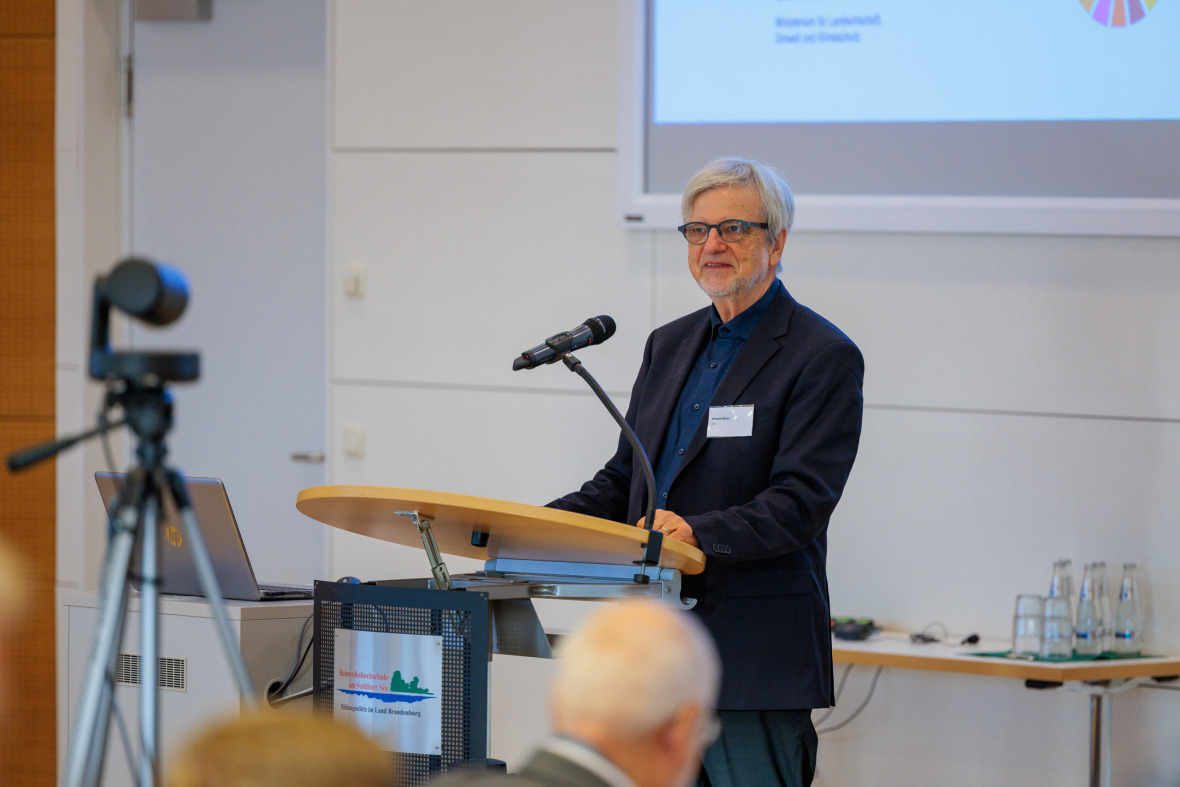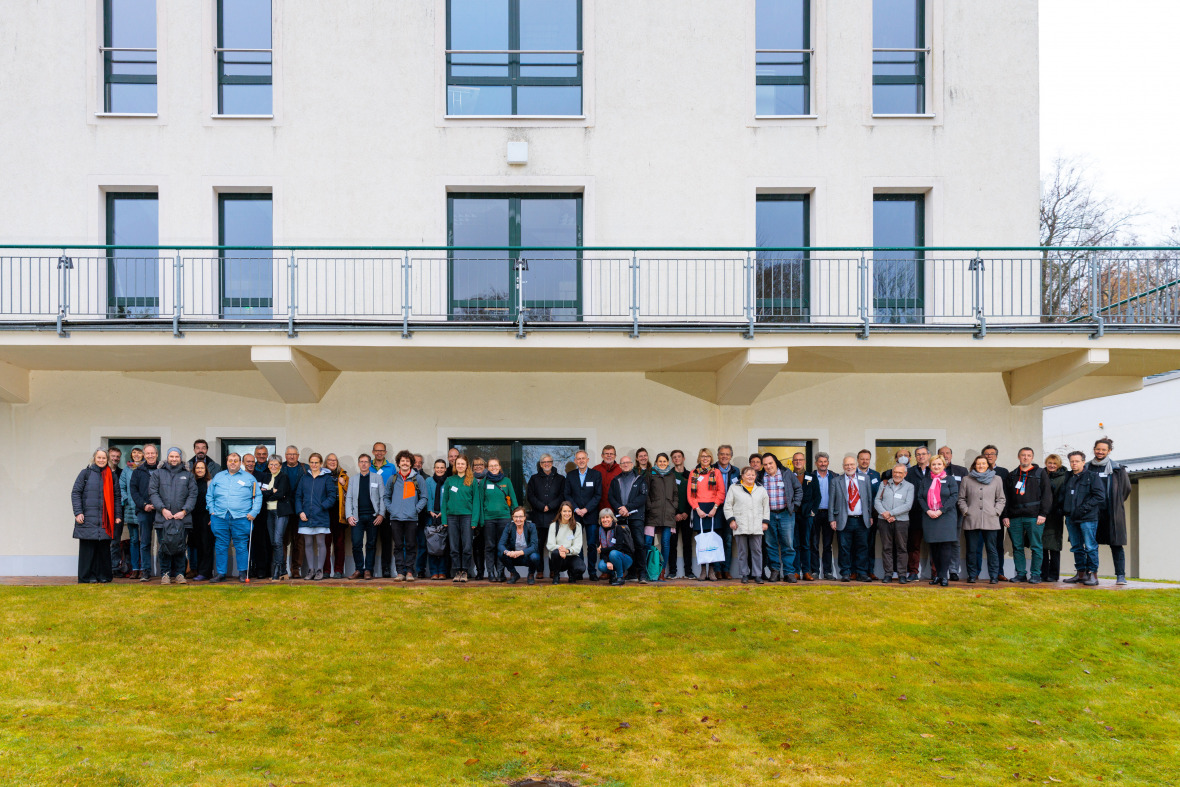 Ortwin Renn emphasized the crucial role of public participation in transformation processes: "Our efforts to put Brandenburg on a pathway towards sustainable development will only succeed if the various stakeholders from politics, business, civil society and science work together to implement the necessary reforms. Citizens must be empowered to play an active role in these transformations, whether through new participation formats such as citizens' assemblies or their involvement in new initiatives to advance energy, mobility and food system transitions."
Jana Schelte, Youth Forum Sustainability Brandenburg - JUFONA and member of the platform's steering group, called on politicians and decision-makers to adopt a more forward-looking perspective: "Young people are increasingly affected by the crises looming on future horizons. But we know that it doesn't have to be this way – if we tackle the necessary changes now, we can ensure that young people have a future worth living. But with many people still vehemently clinging to the status quo, we are failing to make the changes we need. We have to ask ourselves: Do we want to save the present or the future?"
Businesses in Brandenburg are doing their best to support the transition to a low-carbon economy, said Rüdiger Kuhn, CEO of Rüdersdorf-based construction materials producer CEMEX Deutschland AG and a member of the Brandenburg Sustainability Advisory Board. But as he explains, they can't do it alone: "Organisations from across Brandenburg's business community – from small privately-owned companies to highly innovative medium-sized enterprises and large industrial producers – actively support the efforts of the state government to secure good, future-proof jobs and sustainable value creation and to enhance the region's broader appeal and quality of life. Brandenburg's business community is an integral and valuable part of our society. It is only in cooperation with all the other social partners – with their experience, their needs and support – that local companies and businesses can master the challenges of the transformations ahead of us."
Hendrik Aust, team leader for innovation and technology at the Handwerk Education and Innovation Campus (BIH) of Potsdam Chamber of Skilled Crafts and a member of the platform's steering group, said: "The responsible use of resources – including the climate and natural environment – are integral to the identity of the skilled trades community. These businesses live sustainability every day in many different ways. Without the skilled trades, there would be no energy transition. Without the skilled trades, there would be no climate action. And without the skilled trades, society simply could not function. As important economic anchors, these businesses help to maintain the social fabric by securing and creating employment opportunities in all regions. The Chamber of Skilled Crafts supports them using a variety of instruments to promote sustainable business management, tap emerging potentials, and ensure that businesses can continue to operate sustainably in the future."
Fifty-nine people attended the conference at Seddiner See in person and roughly ninety more followed the proceedings online.