Headline:

Pop-up cycle lanes increase sense of security
The Covid-19 pandemic is having an effect on our mobility behaviour. As a reaction to the crisis, pop-up cycle lanes have been set up in Berlin to allow for safe cycling with the required physical distance. How have these new cycle lanes been greeted by the city's road users? The first preliminary answers to this question can be found in the results of a non-representative online survey of 1,661 Berliners carried out by researchers from the IASS Potsdam and the TU Berlin.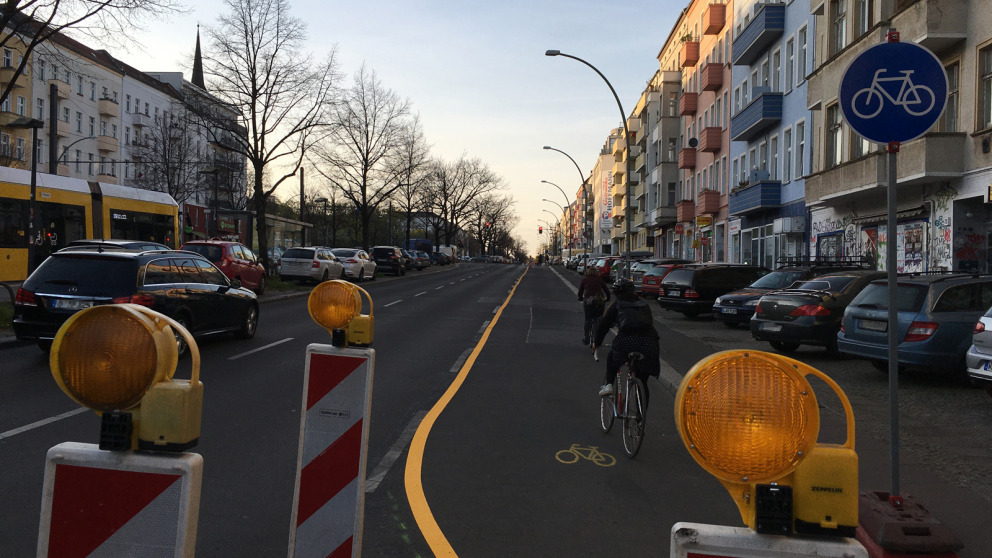 The decline in the use of public transport is corroborated by this online survey: While 76% of respondents travelled at least once a week by bus or train before the crisis, only 23 per cent did so during the survey period.
The percentage of people using their own cars has not changed significantly. Prior to the crisis, 26% of people drove their own car at least once a week, while 28% did so in the survey period. A high proportion of those who filled in the entire questionnaire (76%) were regular cyclists even before the corona crisis. This proportion rose to 84% in the period covered by the survey.
Not surprisingly, the highest level of acceptance is found among cyclists, 94% of whom endorse the pop-up cycle lanes. Acceptance is only marginally lower among public transport users (79%) and pedestrians (75%). Motorists are far less enthusiastic, with only 11% of them in favour of the new cycle lanes.
What the proponents think
The vast majority (78.1%) of those who support the cycle lanes currently use them, while 21.9% do not. Most of those who use them stated that they feel safer in terms of both traffic hazards and the risk of infection with the coronavirus. The cycle lanes allow them to maintain a safe distance from both vehicles and other cyclists. More specifically, respondents pointed to a reduced risk of accidents, for example dooring, where cyclists often sustain serious injuries when they collide with the opening door of a parked car. A subjective sense of security and the feeling of "cycling without fear" were also emphasised. The respondents welcomed the fact that there are less cyclists on the footpaths and less pedestrians on cycle lanes.
These answers indicate that ensuring safety is a key criterion for encouraging more cycling in our cities and getting different population groups to use bikes.
Respondents complained about the aggressive behaviour of motorists, which they believe has increased since the pop-up cycle lanes were established. Motorists continue to drive and park their cars on cycle lanes, and it's feared that this problem will persist if the reorganisation of our city streets leads to more traffic jams.
What the opponents think
90.8% of those who are against the pop-up bicycle lanes do not currently use them, leaving 9.2% who do.
In the view of those who oppose them, one of the main disadvantages of the pop-up cycle lanes is their alleged hindrance of other modes of transport. For example, it has been repeatedly suggested that the cycle lanes leave less space not only for car traffic, but also for public transport, dustbin lorries, ambulances, and parcel delivery vehicles.
Some respondents also predicted more traffic jams as a result of the reduced number of lanes available to cars, especially when economic activities resume as the corona restrictions are eased. Traffic jams and slow-moving traffic could, they argue, increase air pollution.
A number of respondents went as far as suggesting that the pop-up lanes are dangerous. They claim that they have created new traffic hazards in some locations, including blind spots and dangerous situations at corners where vehicles turn off. They also argue that the cycle lanes are hardly being used or that their usage would quickly decline in bad weather.
The survey started on 30 April 2020 and ended on 10 May 2020. A total of 2,578 people participated in it. Of the 1,802 people who completed the entire questionnaire, 1,661 came from Berlin. Since the sample used is not a random sample and is not representative of the population in Berlin, it is not possible to draw conclusions about the attitudes of the entire Berlin population to the pop-up cycle lanes based on the descriptive results presented here. It should also be stressed that cyclists were very strongly represented in the sample.
The IASS study on pop-up cycle lanes can be found here: https://www.iass-potsdam.de/sites/default/files/2020-06/IASS_Study_Pop-Up-Radwege.pdf