Headline:

CO-CREATE Network at the 1st PACCSS Workshop in Berlin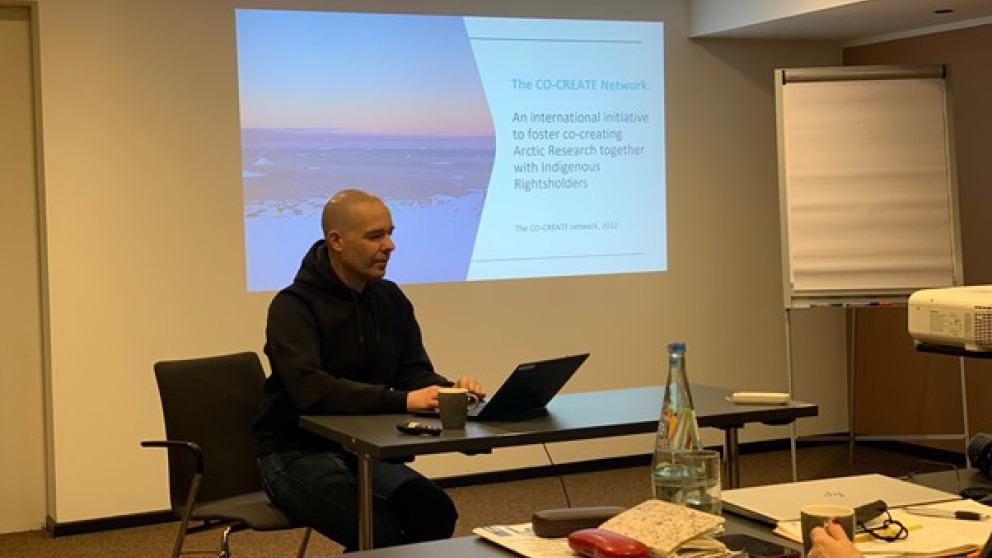 On December 13, the DÁVGI team presented at the Perceiving Arctic Change – Climate, Society and Sustainability (PACCSS) Workshop. The presentation was about the CO-CREATE network as an international initiative to foster co-creating Arctic research together with Indigenous rights-holders.
On December 13, Helmholtz Climate Initiative REKLIM (Regional Climate Change and Humans) invited Anne Cahine, Evie Morin and Stephan Dudeck to present their work at the IASS at the first PACCSS Workshop in Berlin. Funded by the German-French University, PACCSS is a cooperation project of Université de Versailles Saint-Quentin-en-Yvelines and Alfred Wegener Institute Helmholtz Centre for Polar and Marine Research. The workshop was facilitated by Prof. Jan Borm (Université de Versailles Saint-Quentin-en-Yvelines), Dr. Renate Treffeisen (Alfred Wegener Institute), and Dr. Klaus Grosfeld (Alfred Wegener Institute).
First, Prof. Rasmus Bertelsen (Nansen Professor, University of Akureyri / UiT The Arctic University of Norway) presented "Arctic Order in World Order: Theorising the End of Liberal Circumpolar Cooperation." Next, Gunn-Britt Retter (Head of Arctic and Environmental Unit of the Saami Council) presented "Saami Council - 70 years of raising the voice of the Sámi people - how we work." Finally, Stephan Dudeck (Institute for Advanced Sustainability Studies) presented about the CO-CREATE network:an international group of like-minded researchers aiming at transdisciplinary knowledge production in the Arctic, just research relationships, and co-creation. The presentation encouraged other workshop participants to apply these principles in their own work.
Participating in the PACCSS workshop was also motivated by targets of DÁVGI, a jointly led project by the Saami Council, Ecologic Institute, and the IASS and financed by the Ministry for the Environment, Nature Conservation, Nuclear Safety and Consumer Protection. Named the Sámi word for bow (the long-range launching device), DÁVGI aims to explore and develop the conditions for fruitful collaborations between communities, rights-holders and scientific research to strengthen the conservation and restoration of biocultural diversity in the Arctic. A group of IASS scholars became part of the CO-CREATE network following two workshops on Ethics and Methods in Arctic Transformative Research, and aim to put co-creative principles and just knowledge exchange into practice during dialogues and collaborative work with other research contacts and partners.
The audience at the workshop included scholars at all stages of their careers in polar research, from PhD students to experienced researchers. The workshop was a productive space for sharing and learning about methods and approaches for German and French researchers working in the Arctic. The DÁVGI team learned more about the past and present work of the Sámi in the Arctic and encouraged German and French researchers to apply co-creative principles for just knowledge exchange and research relationships in their Arctic work. DÁVGI will continue dialogue about co-creation and future partnerships with the other institutions that participated in PACCSS.