Overline:

Cobenefit India Policy Report

Headline:

COBENEFITS Report Presented to Indian Government
Renewable energies are not just good for the climate: A team of IASS researchers has looked into the advantages of an Indian energy transition for the domestic economy and society and for a green recovery post-Covid-19. Their findings have been published in a report that was presented to the Indian Ministry of New and Renewable Energy at a recent digital conference.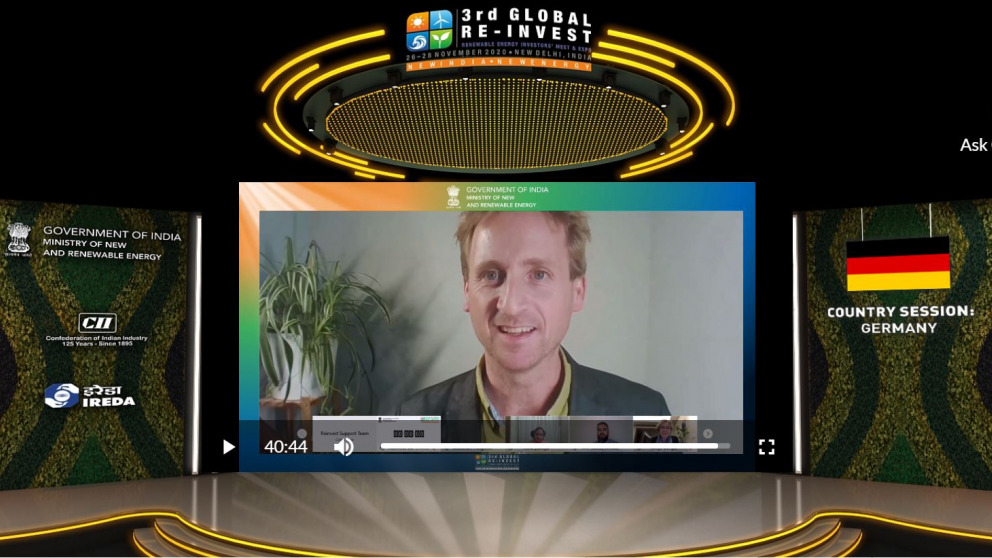 Health, access to energy, and employment: these are the three areas where India can expect to see improvements if the government promotes the expansion of renewable energies. Thus in addition to climate protection, an Indian energy transition would bring several positive side effects or co-benefits. In the COBENEFITS India Policy Report, the IASS and its Indian partner TERI have taken a closer look at these welcome side effects. The culmination of a three-year collaboration between the two institutes, the report was recently presented to the Indian government by Sebastian Helgenberger (IASS) and Neha Pahuja (TERI).
"Making the shift to renewable energies a success for the planet and the people of India – the key message of the report comes as welcome news in the midst of the pandemic," remarked Neha Pahuja at the online event where the report was formally accepted by the Indian Ministry for New and Renewable Energy (MNRE).
In particular, the anticipated effects on the jobs market and the health system have gained renewed relevance during the pandemic. If the Indian government embarks on an ambitious expansion of renewable energies, the report predicts that the number of energy-sector jobs could almost double by 2030. In the solar-energy sector, for example, a large number of highly qualified specialists and technicians will be required in the coming years. So it's important to start training people now in order to meet this future demand for labour.
More renewable energies could also provide much-needed relief to the health system. In India, annual particulate matter concentrations are five times higher than the limit set by the WHO. Four to five per cent of all deaths in India can be attributed to air pollution, and the energy sector's contribution to the problem is currently estimated to be 8 per cent. These deaths could be significantly reduced. The health system would also benefit in financial terms from better air quality.
How can renewable energies improve people's lives? This is the question at the heart of the report. As Sebastian Helgenberger stated when handing over the report: "We believe that the answers to that question are more important than ever to ensure that we build back better after Covid-19."
Author: Veronika Fritz

Tags: