Headline:

IASS Tuesday Talks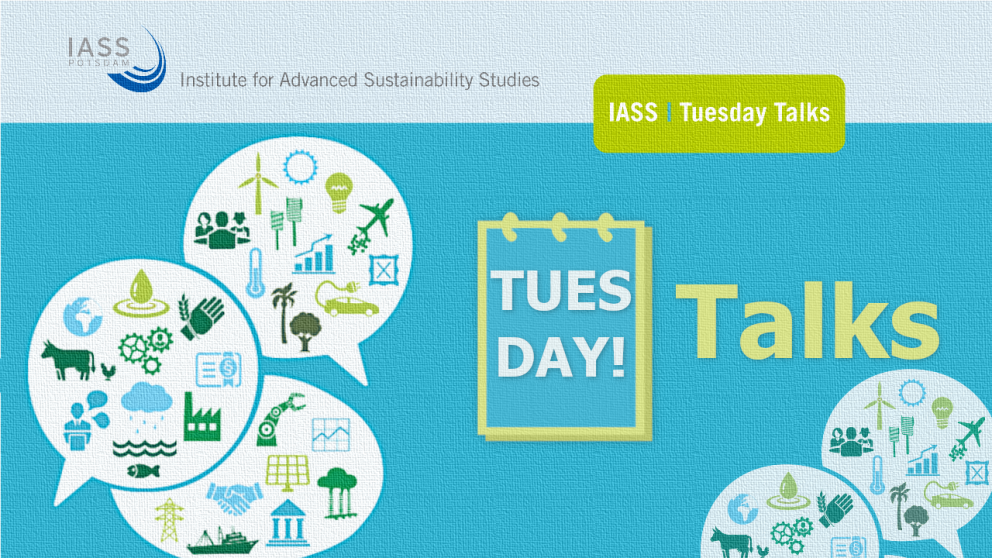 Natalie Koch
Greening the Gulf's oil money: Energy transition and geopolitics in the Arabian Peninsula
If you want to participate, join our Zoom meeting here. Passcode: 876968
Abstract:
"Post-oil" futures are being promoted with great fanfare across the Arabian Peninsula today – spectacular sustainability mega-projects and financial structures are all working to "green" the region's oil money. Given that these projects are largely controlled by the governments and their allies in the hydrocarbon sector and, increasingly, the financial sector, it is essential to understand how the energy transition is being imagined and implemented by actors that are strongly invested in continuing to profit from oil money. Taking the example of the United Arab Emirates, I show that Gulf post-oil energy projects cannot be reduced to cynical acts of "greenwashing," but are active strategies to adapt Western sustainability discourses in their efforts to take control of defining a new "post-oil" political economy and geopolitics for the region. These jointly geopolitical and geoeconomics visions are less about promoting democratic values and energy justice, and more about preserving the capitalist and authoritarian power structures that the Gulf's fossil fuel system was first built upon – and still prevails today.
Bio sketch:
Natalie Koch is Associate Professor in the Department of Geography and the Environment at Syracuse University's Maxwell School of Citizenship and Public Affairs. She is a political geographer working on geopolitics, nationalism, state power, and resource governance in authoritarian contexts. Dr. Koch's current research is focused on energy and environmental policy in the Arabian Peninsula, where she examines how different actors and institutions are promoting sustainability and "post-oil" development agendas in the region. She has published extensively in journals such as Political Geography, Geopolitics, and Society and Natural Resources, and she is the author of The geopolitics of spectacle: Space, synecdoche, and the new capitals of Asia (Cornell University Press, 2018) and co-editor of the Handbook on the changing geographies of the state: New spaces of geopolitics (Edward Elgar 2020).
19/04/2022
Stephanie Jahn
Demarcating transdisciplinary research in sustainability science - Five clusters of research modes based on evidence from 59 projects
If you want to participate, please register here.
Abstract
At this IASS Tuesday Talk, I would like to share the main findings of the research project "Modes of transdisciplinary research in comparison - MONA" and initiate an exchange on how our findings do reflect your rich experiences in transdisciplinary sustainability research at IASS Potsdam.
The discourse revolving around "new modes of knowledge production"—particularly in sustainability-oriented research—seems to suggest a duality of transdisciplinary versus non-transdisciplinary research. Yet, a spectrum of transdisciplinary research (TDR) modes may be expected. Based on a cluster analysis of 59 completed sustainability-oriented research projects, we can present an empirically grounded distinction of five research modes. Projects in one cluster approximate a transdisciplinary ideal type, while another cluster combines almost purely practice-oriented projects. Among the three remaining clusters with varying degrees of practitioner interaction, one cluster assembles projects with strictly academic research, while realizing substantial societal impact. Overall, clusters with more practitioner interaction display stronger societal outputs and impacts at the cost of academic outputs and impacts. Beyond the demarcation of transdisciplinary research modes in sustainability science, our empirical analysis revealed three important tensions related to the theory and practice of this research approach: the conceptual duality of science and society (and scholars and practitioners); imbalances in the involvement and influence of different societal actor groups; and tensions between societal and academic outputs and impacts.
With reference to these tensions, I would like to engage in an exchange around the following questions: Do your research experiences at IASS align with the research mode clusters we have identified? How do you balance scholarly publishing, interactions with practitioners, and the demand for "societal impact" of the research project? And in general, how can TDR be supported to balance these often competing demands?
Biosketch
Stephanie Jahn currently is PhD candidate at the Leuphana University of Lüneburg and scientific coordinator of the inter- and transdisciplinary research project "REWILD_DE" at the Helmholtz Centre for Environmental Research Leipzig (UFZ). Based on her training as a sociologist, her previous research focused on the quantitative exploration of inter- and transdisciplinary research in the German research system. Moreover, she has worked on the acknowledgement of societal benefits of research in research information systems and on the implementation of sustainability-oriented research in higher education institutions.
Previous Public Tuesday Talks
April 12, 2022
Ma Sai
Renewable Energy Investment Disputes: Challenges and Opportunities
April 5, 2022
Maila Guilhon
What is the role of science-related initiatives to regional governance? Improving dialogues for the South Atlantic Ocean
March 22, 2022
Francesco Laruffa
The Role of Welfare States in the Ecological Transition
March 15, 2022
John M. Meyer
The Ambiguous Promise of Climate Population
March 1, 2022
Emily Burlinghaus
Transatlantic Perspectives on Battery Sustainability: Comparing EU and US
November 23, 2021
José Manuel Mendes
Invisible Citizenship, de-democratization and public policies
November 16, 2021
Ragnar Lofstedt
Sweden's handling of the Covid-19 pandemic: The first wave
November 02, 2021
Gretchen Bakke
Interoperability in Energy Systems Transformation, or Learning to Reason without Oil
October 26, 2021:
Henrike Knappe & Rosine Kelz
Justice in Sustainability – Introducing the first IASS Focal Topic Year
October 05, 2021:
Ira Matuschke
Sustainability Plattform Brandenburg – a regional network for sustainability
September 28, 2021:
Artur Sgambatti Monteiro
Artistic transitions and scientific knowledge – Paths to a more subjective communication
September 21, 2021:
Benjamin Beuerle
Renewable Energies in the Soviet Union and Russia: Regional and Transnational Perspectives
September 07, 2021:
Sachchida Nand Tripathi
Advanced monitoring technologies and Capacity Building to Support India's Clean Air Program
August 24, 2021:
Diana Süsser and Vera Köpsel
Stakeholder engagement vs. social distancing: How do the Corona restrictions affect participatory research in EU energy and marine research projects?
August 17, 2021:
Isadora Cardoso
The just energy transition debate in Brazil and Germany through an intersectional lens: which civil society groups are addressing just transition and what do they mean by it?
August 10, 2021:
Anke Strauß
TransForming Organisations: Engaging aesthetic practices for imagining sustainable futures
June 15, 2021:
Malika Virah-Sawmy
Cognition in a time of climate crisis: thinking automatically, deliberately and with meta-awareness.
June 08, 2021:
David Bidwell
Challenges of Public Participation for Offshore Wind Power in the United States
June 01, 2021:
Luiza Montoya Raniero
Exploring Subnational Climate Governance Policies in the Brazil´s Legal Amazon – challenges and opportunities of cross-border transformative co-creation
May 25, 2021:
Shree Raj Shakya
Net Zero Emission: Costly Commitment or Social Need in case of Small Economy Developing Country
May 18, 2021:
Dirk von Schneidemesser
Mobility, Consumer Behavior, and Retailer Perceptions
May 11, 2021:
Volker Rachold
Science Diplomacy for the Polar Regions
April 13, 2021:
Nicole de Paula
"Planetary Health: Re-Imagining Human Health in the Anthropocene"
March 30, 2021:
Natalia Realpe Carrillo
"Impact-Driven and Action-Based Research Project (IMPACT-R)"
March 23, 2021:
Parul Kumar
"Unpackaging the Packaging Sector and other Learnings from my Fellowship"
February 23, 2021:
Stephan Lorenz
"Transdisciplinary Sustainability Research: Sociological Reflection, Procedural Perspectives and Professional Cooperation"
February 16, 2021:
Natalia Realpe Carrillo, Sebastian Groh, Shonali Pachauri and Gunther Bensch
Five years of the MTF to measure energy access -
Practices, lessons learned, & outlook for cost-efficiently tracking progress towards SDG 7
Privacy Notice:
Please read our Privacy Notice before participating in IASS online events. You can find it here. For technical reasons, it is unfortunately not possible for you to participate in online events with DFNconf, GoToMeeting / GoToWebinar or zoom and NOT consent to the processing of your data. Therefore, participation in IASS online events with DFNconf, GoToMeeting / GoToWebinar or zoom requires your consent to the processing of your data by the IASS, by the cooperation partners at the event in question and by DFNconf, GoToMeeting / GoToWebinar or zoom.